Buy Now
Text Me
Check Availability
How it works
Price £897.00
Why not call us and haggle?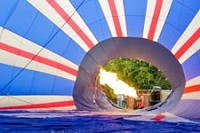 #27555,
Champagne hot air ballon flight for 2
A VIP hot air balloon flight is a special way to experience ballooning. With a balloon to yourself you can have up to 2 passengers. A great way to learn a little bit about the ballooning world!. This experience is for 2 participants, lasting 4 hours (approx 1 hour in the air). Valid for 12 months from date of purchase.
What's included
A VIP balloon flight experience is a great way to get into the air. During your flight you will see the earth from an entirely different perspective. With gentle wind speeds you will have plenty of time to take in the beauty.

A balloon may ascend to 3000ft or travel at tree-top height. Your flight will vary in altitude and the direction of travel will be determined by the wind direction on the day!

Once you meet us you are in our capable hands for about 3-4 hours.

You will be given a safety briefing from your Pilot Russell and invited to take part in the inflation. Once the balloon is ready, we will take-off. After a memorable hour the Pilot will land the balloon and our crew will arrive to help pack up and ferry the balloon and you back to Walton Hall.

We include a Champagne celebration and personalised flight certificates.
Special Conditions
Our main ballooning season runs from April to October - however we still fly VIP flights throughout the winter (weather permitting).

All flights are weather dependent and at the discretion of the Pilot.

Minimum age is 7 years old - no maximum age limit however a fitness ability is required to be able to climb in / out of the basket and stand for 1 hour. Minimum height is 4'6" with a maximum weight of 17st.

You must not fly if you are pregnant, no matter what stage you are at however we will extend your voucher by 9 months if you become pregnant during the validity period.

If you have a serious health condition you should consult your doctor before flying - our flight vouchers are 100% transferrable to another passenger!
Voucher
Each voucher entitles 2 people to participate in this experience. The voucher is transferable, which means that anyone can use it. The voucher remains valid for bookings for 12 months from date of purchase. Please contact the operator using the details which will be printed on your voucher to arrange a date for your event.

Booking your event
We recommend that you purchase your voucher and make a booking for your event at least one month prior to your chosen date. This is particularly important for weekend events.

A Typical Hot Air Balloon Flight
A balloon experience with Ballooning4all is so much more than just showing up, doing it, and going home. For one thing it's a very weather–dependant activity, so the first part is simply to contact the operator a few hours before your scheduled flight to check that it's going ahead today.
If the news is good, soon after arrival you'll be helping the crew ready the balloon for the flight: it has to be laid out first, then it's inflated with a petrol driven fan before the burners are fired up. During the flight you'll be standing very close to the pilot – in relative silence – so it will be easy for him/her to explain what is being done and to point out the local landmarks. The landing is an exciting experience after the serenity of the flight, and then there's the journey back to your launch site – which can be quite a few miles.

Validity / Cancellation
The voucher will remain valid as long as an attempt to book the flight has been made within the 12 month period. You must contact the operator using the details printed on your voucher, to arrange a date for your event prior to the end of the 12 month period expiring.
Balloon flights are in the UK are frequently cancelled due to adverse weather conditions, therefore you may not always be able to fly on your chosen date, a certain degree of flexibility is recommended to allow for the UK climate.
Unless otherwise mentioned in the advertisement, hot air balloon baskets, typically hold up to 6 people, therefore you will be sharing your experience with other passengers, this normally serves to enhance your day out.
if you wish to book an exclusive experience, please look use our EXCLUSIVE FLIGHTS link in the main navigation or contact us and we will be able to assist you in planning your perfect day of hot air ballooning.
This Rating (5
*

/ 5

*

)

'Website and purchase process' by anonymous on 07/11/16.

"Good set up, after emailing a question it was speedily replied too"