Buy Now
Text Me
Check Availability
How it works
Price £161.25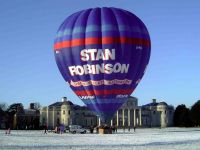 #27023,
Weekday Champagne Ballooning In Cheshire
A champagne hot air balloon flight from Stapley Water Gardens valid for midweek Morning and Evening flights. A once in a lifetime experience accompanied by champagne that you can't afford to miss out on. . This experience is for 1 participant, lasting 4 hours (approx 90 minutes in the air). Valid for 12 months from date of purchase.
What's included
The origins of Nantwich date to Roman times when its salt was used by the Roman garrisons at Chester and Stoke-on-Trent as both a preservative and a condiment. Salt has been used in the manufacture of Cheshire cheeses and also in the tanning industry, two products that result from the dairy farming based on the Cheshire plain.
Flying over this region of Cheshire you will appreciate how the county has become famous for its milk production. Almost every farm is a dairy unit, and cows stretch from horizon to horizon! This is a beautiful rural landscape, managed to a very high standard by the farming community.
Its heritage proven by the many half-timbered buildings that make up this ancient market town.
Few can resist the attraction as one hundred feet of wispy nylon majestically rises with the dragon-like roar of the burners. As you take off you'll be more aware of the ground dropping away than any sensation of movement or rising. The feeling of peace and tranquillity is heightened by the apparent lack of wind - because you're moving with it.
Once in the air, your balloon travels up to heights of several thousand feet, allowing you to gaze down upon villages, towns and the countryside. The 'miniature' people and cars scattered seemingly at random across the ground below look as if they've fallen from a toy box.
The supremely steady balloon basket provides an excellent vantage point for aerial photography - the pilot can turn the balloon using the 'rotation vents' - thus providing you with a truly panoramic view as you float through the air.
You'll also have a good chance of spotting wildlife, particularly on morning flights.Views depend entirely on the wind direction on the day, which means every flight is unique.
We round off each flight with a champagne toast and a commemorative flight certificate presentation, making the occasion an even more memorable experience.
Special Conditions
Maximum weight 18 stones.
Minimum 'unaccompanied' age 16 years.
Although we can accomodate passengers with a variety of disabilities, we cannot accomodate wheelchairs.
We cannot fly passengers while pregnant.
Passengers should have a reasonable degree of mobility as access into the passenger basket is via steps in the wickerwork.
Stapeley Water gardens is is a well-known and prestigious venue, located on the outskirts of Nantwich. Nantwich benefits by its proximity to so many major routes. Ten minutes from the M6, and on the junction of the A51, A500, A529, A530 and A534, this is certainly an easy place to reach for your flight.
Meeting locations/launchsites may be subject to change for operational reasons, eg) breeze direction.
Voucher
Each voucher entitles 1 person to participate in this experience. The voucher is transferable, which means that anyone can use it. The voucher remains valid for bookings for 12 months from date of purchase. Please contact the operator using the details which will be printed on your voucher to arrange a date for your event.

Booking your event
We recommend that you purchase your voucher and make a booking for your event at least one month prior to your chosen date. This is particularly important for weekend events.

A Typical Hot Air Balloon Flight
A balloon experience with Ballooning4all is so much more than just showing up, doing it, and going home. For one thing it's a very weather–dependant activity, so the first part is simply to contact the operator a few hours before your scheduled flight to check that it's going ahead today.
If the news is good, soon after arrival you'll be helping the crew ready the balloon for the flight: it has to be laid out first, then it's inflated with a petrol driven fan before the burners are fired up. During the flight you'll be standing very close to the pilot – in relative silence – so it will be easy for him/her to explain what is being done and to point out the local landmarks. The landing is an exciting experience after the serenity of the flight, and then there's the journey back to your launch site – which can be quite a few miles.

Validity / Cancellation
The voucher will remain valid as long as an attempt to book the flight has been made within the 12 month period. You must contact the operator using the details printed on your voucher, to arrange a date for your event prior to the end of the 12 month period expiring.
Balloon flights are in the UK are frequently cancelled due to adverse weather conditions, therefore you may not always be able to fly on your chosen date, a certain degree of flexibility is recommended to allow for the UK climate.
Unless otherwise mentioned in the advertisement, hot air balloon baskets, typically hold up to 6 people, therefore you will be sharing your experience with other passengers, this normally serves to enhance your day out.
if you wish to book an exclusive experience, please look use our EXCLUSIVE FLIGHTS link in the main navigation or contact us and we will be able to assist you in planning your perfect day of hot air ballooning.
This Rating (5
*

/ 5

*

)

'Website and purchase process' by anonymous on 04/07/13.

"This is the 2nd time i have used your website to purchase a flying exp voucher. It isca great service and i was very happy"