Buy Now
Text Me
Check Availability
How it works
Price £900.00
Why not call us and haggle?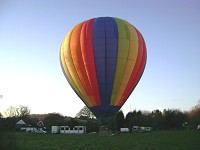 #24681,
Exclusive Champagne Balloon Flight for up to six
Exclusive mid week morning balloon flight for six people. This experience is for 6 participants, lasting 4 hours (approx 1 hour in the air). Valid for 12 months from date of purchase.
What's included
Treat the family to a special flight over the beautiful Chilterns. Enjoy a glass of champagne while you take in the views.
Special Conditions
Passengers should be reasonably to climb into the basket and stand for one hour. Children must be at least eight years old and if under fifteen accompanied by an adult.
Voucher
Each voucher entitles 6 people to participate in this experience. The voucher is transferable, which means that anyone can use it. The voucher remains valid for bookings for 12 months from date of purchase. Please contact the operator using the details which will be printed on your voucher to arrange a date for your event.

Booking your event
We recommend that you purchase your voucher and make a booking for your event at least one month prior to your chosen date. This is particularly important for weekend events.

A Typical Hot Air Balloon Flight
A balloon experience with Ballooning4all is so much more than just showing up, doing it, and going home. For one thing it's a very weather–dependant activity, so the first part is simply to contact the operator a few hours before your scheduled flight to check that it's going ahead today.
If the news is good, soon after arrival you'll be helping the crew ready the balloon for the flight: it has to be laid out first, then it's inflated with a petrol driven fan before the burners are fired up. During the flight you'll be standing very close to the pilot – in relative silence – so it will be easy for him/her to explain what is being done and to point out the local landmarks. The landing is an exciting experience after the serenity of the flight, and then there's the journey back to your launch site – which can be quite a few miles.

Validity / Cancellation
The voucher will remain valid as long as an attempt to book the flight has been made within the 12 month period. You must contact the operator using the details printed on your voucher, to arrange a date for your event prior to the end of the 12 month period expiring.
Balloon flights are in the UK are frequently cancelled due to adverse weather conditions, therefore you may not always be able to fly on your chosen date, a certain degree of flexibility is recommended to allow for the UK climate.
Unless otherwise mentioned in the advertisement, hot air balloon baskets, typically hold up to 6 people, therefore you will be sharing your experience with other passengers, this normally serves to enhance your day out.
if you wish to book an exclusive experience, please look use our EXCLUSIVE FLIGHTS link in the main navigation or contact us and we will be able to assist you in planning your perfect day of hot air ballooning.
Reviews
Written by anonymous on 13 August '15.

"Easily contactable to check conditions.Clear directions and map easily obtainable from google. Staff were very friendly and welcoming and knowledgeable. The briefing was good, felt totally at ease. Operator very friendly and helpful, and keen to make the most of the experience for the customer (thank you Alan) DEFINITELY THRILLING. Will do it again, and have already recommened, and passed on brochures, to others. VERY IMPRESSED "