Buy Now
Text Me
Check Availability
How it works
Price £173.75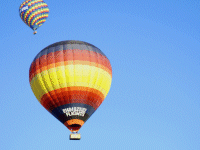 #21135,
Champagne Hot Air Balloon Flight
Stunning champagne Hot Air Balloon Rides across The South West. The voucher is valid for all our scheduled balloon flights, 7 days a week, dawn or dusk, and from all our launch sites in Cornwall, Devon, Dorset, Somerset and Wiltshire.. This experience is for 1 participant, lasting 3 hours (approx 1 hour in the air). Valid for 12 months from date of purchase.
What's included
A balloon flight is unlike other forms of flying; your visibility is through 360 degrees and your flight feels uninhibited. A model world appears below, familiar landmarks take on new perspectives, whether you are close to the ground viewing wildlife, or up amongst the clouds marvelling at their powdery appearance, you will be intrigued by this aerial mystery tour.
A Hot Air Balloon moves with the wind direction and whatever the wind speed you feel no movement or breeze, plus you have the radiant heat from the burners; even in mid-winter you are far warmer in the air than on the ground. Binoculars, video or camera are a must. Bring plenty of film.

What's Included:
* 12 Month open dated voucher valid for all our scheduled dawn or dusk balloon flights and from all our launch sites, excluding Bank Holidays.
* Full pilot briefing
* Invitation to assist with the inflation and deflation of the balloon
* Approximately one hour flying time
* Traditional ballooning champagne toast
* Personalised commemorative flight certificate signed by the pilot
* Return to meeting point/launch site
* The experience will last between 3 and 4 hours
* Optional in flight photo available.
Special Conditions
-Maximum weight 18 stones.
-Minimum age 7 years.
-Passengers under the age of 16 must be accompanied by an adult.
-We are able to accommodate passengers with a variety of disabilities, however unfortunately cannot accommodate wheelchairs.
-We cannot fly passengers who are pregnant.
-Meeting locations/launchsites may be subject to change for operational reasons, eg) breeze direction.
-Hot Air Balloon rides are subject to weather conditions, if we are unable to fly on your preferred date due to poor weather your flight is moved forward to the next mutually convenient date.
Voucher
Each voucher entitles 1 person to participate in this experience. The voucher is not transferable, which might mean that only the named person can use it (but we've never known an operator object to a name change, or even check ID before a flight). The voucher remains valid for bookings for 12 months from date of purchase. Please contact the operator using the details which will be printed on your voucher to arrange a date for your event.

Booking your event
We recommend that you purchase your voucher and make a booking for your event at least one month prior to your chosen date. This is particularly important for weekend events.

A Typical Hot Air Balloon Flight
A balloon experience with Ballooning4all is so much more than just showing up, doing it, and going home. For one thing it's a very weather–dependant activity, so the first part is simply to contact the operator a few hours before your scheduled flight to check that it's going ahead today.
If the news is good, soon after arrival you'll be helping the crew ready the balloon for the flight: it has to be laid out first, then it's inflated with a petrol driven fan before the burners are fired up. During the flight you'll be standing very close to the pilot – in relative silence – so it will be easy for him/her to explain what is being done and to point out the local landmarks. The landing is an exciting experience after the serenity of the flight, and then there's the journey back to your launch site – which can be quite a few miles.

Validity / Cancellation
The voucher will remain valid as long as an attempt to book the flight has been made within the 12 month period. You must contact the operator using the details printed on your voucher, to arrange a date for your event prior to the end of the 12 month period expiring.
Balloon flights are in the UK are frequently cancelled due to adverse weather conditions, therefore you may not always be able to fly on your chosen date, a certain degree of flexibility is recommended to allow for the UK climate.
Unless otherwise mentioned in the advertisement, hot air balloon baskets, typically hold up to 6 people, therefore you will be sharing your experience with other passengers, this normally serves to enhance your day out.
if you wish to book an exclusive experience, please look use our EXCLUSIVE FLIGHTS link in the main navigation or contact us and we will be able to assist you in planning your perfect day of hot air ballooning.
This Rating (4
*

/ 5

*

)

'Website and purchase process' by anonymous on 19/12/16.

""